Minsk | Interview with Timothy Mead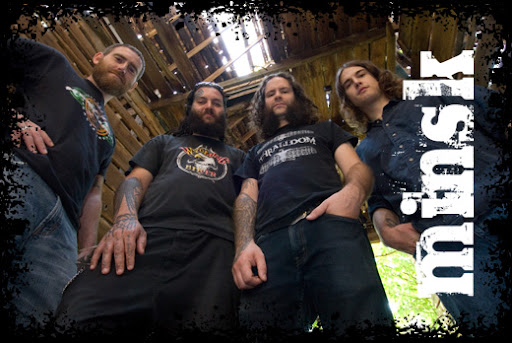 With an extremely exciting third album entitled "With Echoes In The Movement Of Stone" receiving worldwide critical appraisal, Chicago's psychedelic metal experimentalists Minsk are poised to break into the big league and become one of the most creative and interesting acts extreme music has ever spawned. Their music has the power to stir up the senses of many levels: the cerebral, the emotional, the psychological, etc… as demonstrated on the follow-up to "The Ritual Fires of Abandonment". We've approached the group by e-mail to understand more about "With Echoes In The Movement Of Stone" and vocalist Timothy Mead agreed to be the interlocutor.
With a new album recently issued to promote on the road entitled "With Echoes In The Movement Of Stone", Chicago's Minsk have completed their first-ever European tour last May with Poland's Ketha as supporting act. How did that go?
"The tour was great. It was our first trip to Europe, and we were overwhelmed in every sense. It was an absolute thrill for us to meet people across the ocean who were interested in what Minsk is doing. Ketha was great, really great guys and a great young band. The tour was thrown together very quickly and at the last minute, and still there were good crowds, lots of interest, amazing hospitality. If we had tried that in the States, it would have been a totally different experience. We can't wait to come back to Europe in the fall with A Storm of Light."
The tour started with a performance at the Roadburn festival in Holland. Did you enjoy the experience at Roadburn? It seems that Minsk's performance had caused a strong impact on the audience, Steve Von Till from Neurosis for example has posted the following message at Beyond the Pale at Roadburn blog: "Arrived this morning... who needs sleep? It is so good to be here. Just watched Minsk. They were awesome!"
"The whole festival was unreal. I cannot imagine a more perfect setting for this type of festival. Great bands, relaxed atmosphere, great sound, IN HOLLAND! Walter and his army of hard working staff make the whole thing run so smoothly. I can't say enough about that. There are no attitudes or other things that ruin other festivals. It was great. We were surprised at the impact our performance had as well. The room was full of enthusiastic supporters, and we met so many people there who were happy that we'd come. It was humbling to be among such great bands from all over the world. And any time you can get a complement from SVT, well, that's just plain awesome."
Long time collaborator and Yakuza's vocalist/multi-instrumentalist Bruce Lamont have accompanied Minsk on this recent European jaunt playing saxophone and other instruments live. What was like having Lamont on board to play with the band? Did you have to re-think some of the songs to play them live and incorporate his musical input?
"Playing with Bruce is always a joy for us. As you mentioned, he's played on a lot of our recorded material, and he's played live with us several times in the States as well. But this was the first time he did an entire tour with us. It went very very well, and it's something we hope to be able to do again, especially in Europe. But to answer your question, no we don't ever really have to rethink too much when Bruce plays with us. He knows our music, and he understands what we are doing artistically. He always finds a way to be a part of that when he performs with us. But as the tour went along, it was really exciting for us to begin to gel as a unit more and more. Once everyone was comfortable playing with each other night after night, Bruce was able to step forward more and add other elements. I hope we get to do it again soon."
While playing live, since the music is so demanding, how hard is it to replicate in a live setting? Do you think the songs from the new record are more challenging to play live?
"The songs are always challenging to replicate, to an extent. These are songs we've written, and so they feel natural to us in a way. But they are also demanding, as you say, with lots of elements happening simultaneously, etc. To get that mixture perfect does take some time for us. But we also don't view what we do live in exactly the same way as the recorded material. I think it would be extremely neurotic and unfulfilling for us to try to put forth exactly what you hear on the album night after night. Sometimes the live material resembles the recorded material, and sometimes it strays. When it strays, those are sometimes the most thrilling experiences for us performing. For me, the new songs are a bit more challenging still, because they are new still. In the long run, I think these songs present the same sorts of challenges and possibilities that the older songs do."
"With Echoes In The Movement Of Stone" seems heavily accentuated on dynamics, constantly contrasting between passages of psychedelic and melodic subtlety and violent bursts of primal aggression. I'm curious to know if the band starts the writing of a new record with some conversation and conceptualization between all of you or if one of you basically starts showing up at rehearsals with new ideas. In your opinion what was done differently this time around?
"I think our writing process is a little bit of everything that you mention. Sometimes there are conversations, sometimes there are simply musical ideas. But every song comes together in its own way. It seems like we definitely have ideas in mind about the concepts and dynamics of each album as we're working on it, but ultimately it just comes out the way it does, and we follow that path for a while. I think our subconscious motivations, fears, and head spaces determine these as much, if not more, than our intentions... in terms of the larger dynamics and moods of each album. As for "With Echoes...", we prepared as much as possible before the sessions, and then began the second aspect of the writing which takes place in the studio. This time around, we did the album in fewer longer sessions, rather than several shorter ones, and I feel that we were better prepared before entering the studio in some way. The entire process felt shorter to me, though I'm sure it was equally as gruelling as the last one for Sanford as a producer."
With each new album, do you find the process of writing and composing songs to be easier and more natural, or do you find it increasingly more difficult to keep a fresh approach, without rehashing ideas from the past?
"I'm not sure if I can give a clear answer to that question. To me, writing seems both as natural and difficult as it did in the beginning. I'd like to think that we've matured as individuals and song writers since then, but I think we get just as wrapped up in that challenge as we used to. We have always just enjoyed the music that happens when we get together, and that is still the case. It still feels natural, without too much worry about what it sounds like or if ideas are reused. It is always challenging to try to put forth something better than the last thing you did, but that's also the joy. For me, I feel that we have managed to do that thus far. That matters more than the subjective and varied ways that people are going to receive it."
"With Echoes In The Movement Of Stone" was once again produced by bassist and rising producer Sanford Parker at Volume studios. There's an obvious advantage of having someone in band that has a vast experience as producer and owns his own recordings studios like Sanford, it means that you can record new songs whenever you feel like it. Is that the case or do you still like to commit new songs to tape only after they're fully developed at rehearsals?
"Yes, it is a great luxury to have a producer in the band. Sanford is amazing at what he does, and he completely understands and is invested in what Minsk does. Bands dream of having that kind of relationship with the person that is going to produce their album. But so far for Minsk, we typically only record when we're working on an entire project, like a new album, or a vinyl release. The studio is a business, with bills to pay, and lots of bands coming and going. We always have enough time to do what we need, and unlimited access to Sanford, but studio time still costs the studio, and the band, some money."
The enigmatic title of the record "With Echoes In The Movement Of Stone" seems to underlie a some kind of elaborated lyrical concept. Do you care to explain the themes behind the album's lyrical work?
"I hesitate to say too much, because I honestly believe that the entire experience of the album paints a picture. My hope is that these words and this music are full of meaning, in many different ways at different times. Themes of loss and regret are certainly strong. Simultaneous opposites like fear and joy, suffering and triumph, are present. If we talk about what these lyrics "mean" and isolate them from the songs of which they are a part, then we're setting them aside as having value and significance on their own. They, we are trying to read them like a text, rather than a poem, a song. On this album, perhaps more than the previous ones, they present a continuum of emotion, hopefully something larger than isolated meaning, something richer that can continue to speak to us and to people who wish to dig deeper. It seems a ridiculous thing to hope for, I suppose."
So what's next for Minsk?
"Well, the album is out now, and we've just completed a tour of the western US with Wolves in the Throneroom and a trip to New York to play with Keelhaul and Unearthly Trance, two of our absolute favourite bands. We'll be home for a few weeks before heading back to Europe in October for Damnation Fest in England and a three week tour of the UK/Europe with A Storm of Light. We're very excited about that. Then, we'll probably tour the eastern half of the US in the spring and begin planning our next trip back to Europe as soon as possible!"
More info at: www.myspace.com/minsk