Best of 2009 | The Scratch the Surface Harvest
1- Mastodon – Crack the Skye


Touted as the 'next Metallica' and 'Metal saviours', Mastodon are clearly the most important metal band of this decade. There is no other act in heavy and extreme music running today that manages to constantly push the envelope into new sonic directions with each album released without making some distressing miscalculations. 'Crack the Skye' sees the band further experimenting into a progressive-rock sound and is a must-have for any lover of heavy and well-crafted music.





2- Alice in Chains – Black Gives Way to Blue


Opinions may have been divided over Alice in Chains' comeback album. While some were anxiously waiting to hear the outcome of the newly reincarnated group following the tragic death of vocalist Layne Staley seven years ago, others simply dismiss this as another half-assed attempt to capitalize on former glory. Truth is, although 'Black Gives Way to Blue' is not an instant classic like 'Dirt' , it's nonetheless a damn good record that grants a second lease of life to Jerry Cantrell and Co.





3-Megadeth - Endgame


David Mustaine sometimes sounds like a jealous prick, always bitching about the past and how he was kicked out of Metallica. Sure, Megadeth's leader and mastermind might not be driving Ferraris and Lamborghinis or shopping at Dolce & Gabbana nowadays, but he has more than enough reasons to be proud of himself and get over the trauma. Simply, Mustaine and Co.'s new album 'Endgame' pisses all over 'Death Magnetic', a genuine and heartfelt thrash-metal masterpiece overhauled for the new millennium. 'Endgame' sees Megadeth doing what they do best, THRASH.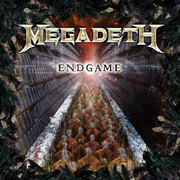 4- Baroness – Blue Record


'Blue Record' is the second full-length release from Savannah's Baroness; the group have steadily climbed their way up the ranks of heavy music following in the footsteps of their comrades Mastodon. Falling somewhere between 70's progressive rock and the intricacies of Mastodon, this new album stands on the shoulders of their debut 'Red Album' released in 2007. It builds on the characteristics of their established progressive, sludgy and crusty sound whilst bravely venturing into new musical territory.





5- Coalesce - OX


'OX' is Coalesce's first album in ten years, and fans will rejoice to find out that the band's predilection towards genre-defying experimentation remains intact. Boasting off-kilter rhythms and a complex math-core riffage, 'OX' is an engaging record displaying all the elements that made Coalesce so damn special from the very beginning.





6-Amorphis - Skyforger


Majestic and brooding, 'Skyforger' is the ninth studio album from the ever reliable Finns Amorphis and third featuring current vocalist Tomi Joutsen. Like Amorphis's previous two records, 'Eclipse' and 'Silent Waters', 'Skyforger' is a concept album chronicling the tales of mythological characters from the Kalevala, in particular the blacksmith Ilmarinen. The stunningly beautiful first single 'Silver Bride' is a definite standout on what is a tremendously good record.





7- Kylesa – Static Tensions


Must be something in the water or the air, because just like Mastodon and Baroness, Kylesa hail from Georgia and just like their comrades have made one of the most surprising and engaging records released this year. Since their self-titled debut released in 2002, their musical style and sound have been honed, progressed and perfected and Kylesa finally hit the mark with their fourth studio album. The tracks have the usual sludgy and psychedelic vibe, but this album is blessed with a particularly strong progressive-rock melodic sensibility.





8-A Storm of Light – Forgive Us Our Trespasses


On 'Forgive Us Our Trespasses', Josh Graham and Co. have brought in a number of guests and collaborators, including former Swans vocalist Jarboe, Primitive North's vocalist Nerissa Campbell, singer, poet and author Lydia Lunch, and multi-instrumentalists Carla Kihlstedt (Book Of Knots, Sleepytime Gorilla Museum) and Marika Hughes.
The results are creepy and eerie, with slow thumping funereal riffs coupled with mournful strings and the harrowing voice of the man responsible for Neurosis visuals, a cryptic ambience clearly not indicated for the feint of heart.





9-Blut Aus Nord - Memoria Vetusta II - Dialogue with the Stars


Blut Aus Nord is an avant-garde black metal group from Mondeville, France. 'Dialogue with the Stars' is the sequel to their critically acclaimed 1996 album 'Memoria Vetusta I - Fathers of the Icy Age' and it sees the three-piece returning to a more traditional black-metal style after flirting with electronic and industrial elements on their most recent offerings. Epic and ethereal guitar melodies permeate a more caustic and dark black-metal soundscape, making Blut Aus Nord one of the most innovative and interesting bands in the genre.





10-Lamb of God – Wrath


'Wrath' is bursting with powerful, infectious riffs, vicious grooves and virtuosic performances. Some accuse Lamb of God of being repetitive and derivative, but the truth is, when it comes to bring out some straight-up, aggressive and solid metal in the tradition of Pantera and vintage Metallica no one does it better than these Virginia fellows. Much better than its somewhat lacklustre predecessor 'Sacrament' from 2006, 'Wrath' is an essential purchase for 2009.


David Alexandre